You may have a library of recipe books on the shelf and a favourite chef, now we'd like to contribute to your collection with these exciting recipes specially created using Harrington's special menu of bacon, sausages, black pudding and more. And we'll be adding even more delicious recipes to inspire you.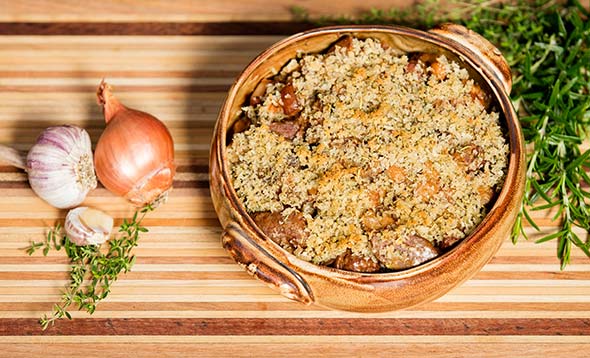 Cassoulet avec Harrington's Toulouse Sausages and Harrington's Streaky Bacon
This traditional rich, slow-cooked casserole from the South of France is named after the earthenware pot that the locals cook it in. Harrington's Toulouse sausage has just the right blend of 100% prime New Zealand pork, fresh garlic cloves and pistachios for an authentic French flavour. And they're gluten free. Add Harrington's sensational Streaky Bacon and you've got a beautiful warming dish, with or without the earthenware pot. C'est superbe.
Read more.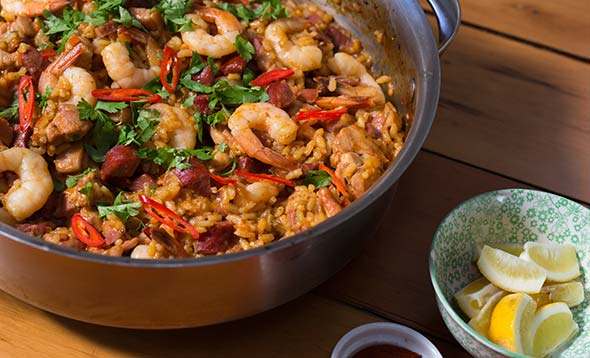 Paella with Harrington's Chorizo and Harrington's Streaky bacon
It's a little confusing but 'paella' or to be more exact 'la paella' is an old Valencian name for the cooking pan itself and not the dish. There are other theories, the most romantic of them is that the dish was first prepared by a lover for his fiancée and that the word is a corruption of 'para ella' meaning 'for her' in Spanish. It takes an authentic recipe to make a truly great paella. And top quality ingredients, like Harrington's fresh chorizo made to a traditional recipe, with its spicy tang of fresh chili and smoked paprika blended with the finest 100% New Zealand pork and beef. Now we're talking Spanish.
Read more.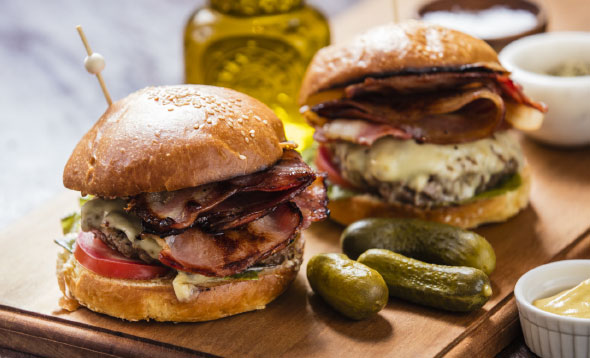 Beef and Bacon Burger, with Harrington's Danish bacon
There's evidence that ancient Romans were been making burgers back in the 4th Century. Others say it was a cook in a small Texas town popped a Hamburg steak between two slices of bread. There are good burgers and there are great burgers. The secret is to use the best ingredients, like top quality premium mince and Harrington's Danish bacon which is delicious and has no added water so it won't shrink and has loads more flavour to your burger.
Read more.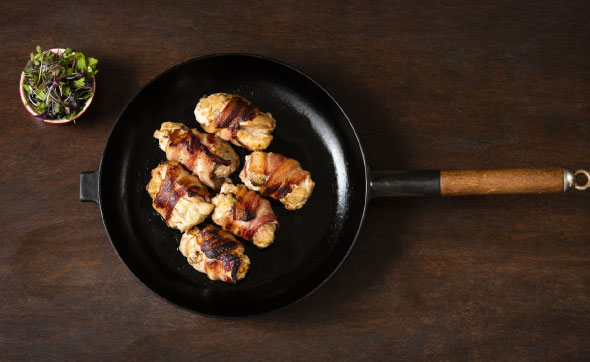 Marinated Chicken Thighs wrapped in Harrington's Streaky Bacon
The thigh's no longer the limit with this great twist on a classic favourite using Harrington's streaky bacon. Our bacon is the only one to use because it has a unique lovely crisp, smoky taste that complements the marinated chicken perfectly. It's an easy recipe, and so delicious, so don't be chicken, have a go.
Read more.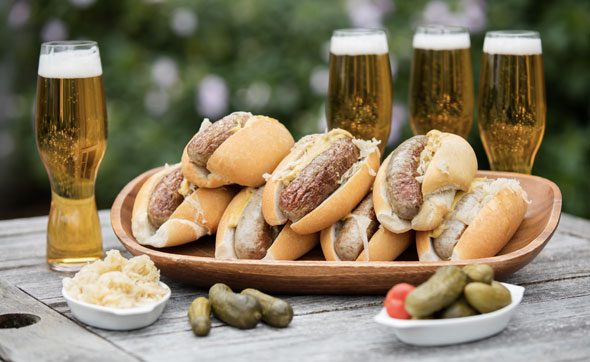 American Brat in a Bun
Making the perfect Brat in a Bun our recipe is simple. Harrington's American Bratwurst rules. Beautifully aromatic, nutmeg and ginger blended with the finest dry-cured, manuka-smoked 100% New Zealand pork. A delicious and cheerful, gluten-free treat perfect for the big game or any time friends and family come around. A favourite with Uncle Sam, and Uncle Sid.
Read more.